3 Christmas Trees Designed With Themes – Woodsy, Modern, and Farmhouse
I usually design some themed Christmas trees this time of year (digitally, of course), and I'm sharing some more trees for this year's holiday season with you today.
I've included some top-to-toe random items for the tree….from ornaments, tree skirts, toppers, lights, gift wrap, and a few extra themed decor items.
It's almost time to start that holiday decorating!
My blog may contain affiliate links. Any purchases, at no additional charge to you, are most appreciated and make this blog possible. 🙂
---
The first tree I have this year is a Woodsy Christmas tree.
I live in The Woodlands, TX. So, as I was looking at some ornaments, it just became obvious that there was a lot of woodsy type Christmas items that would make a lovely woodlands type Christmas tree.
I love the wood elements that are repeated, and the marriage of a natural theme with a bit of sophisticated sparkle.
It's woodsy….with style. 🙂

---
Next, I have another Modern Design Christmas tree.
I just can't resist a beautiful, sleek modern look sometimes, especially during the holidays when things can get to a "more is more" state fast.
I just imagine myself sitting in my elegant, modern, minimalist high-rise apartment someday with my sparse, perfect noble fir, and a few of these lovely sleek ornaments dripping from my tree.

---
Lastly, I have the ever-so-popular style, farmhouse Christmas tree.
Yes, Joanna and Chip made this look popular and many are tiring of it now. However, I think an ode to the farmhouse look is good idea. After all, the dream of a homey Christmas in farmhouse sounds like a pretty good to me whether on trend or not.
Let's do it right with farmhouse tree to love right now. I've got a some cute animals, galvanized metal and some tasteful rustic elements with a touch of red that would look great on your farmhouse tree.

---
Have you started thinking about holiday decorating yet?
I'm have a few more of these, another Boho/Vintage tree and a Chinoiserie tree to name a few, so stay tuned!
Pin these to Pinterest to save for later.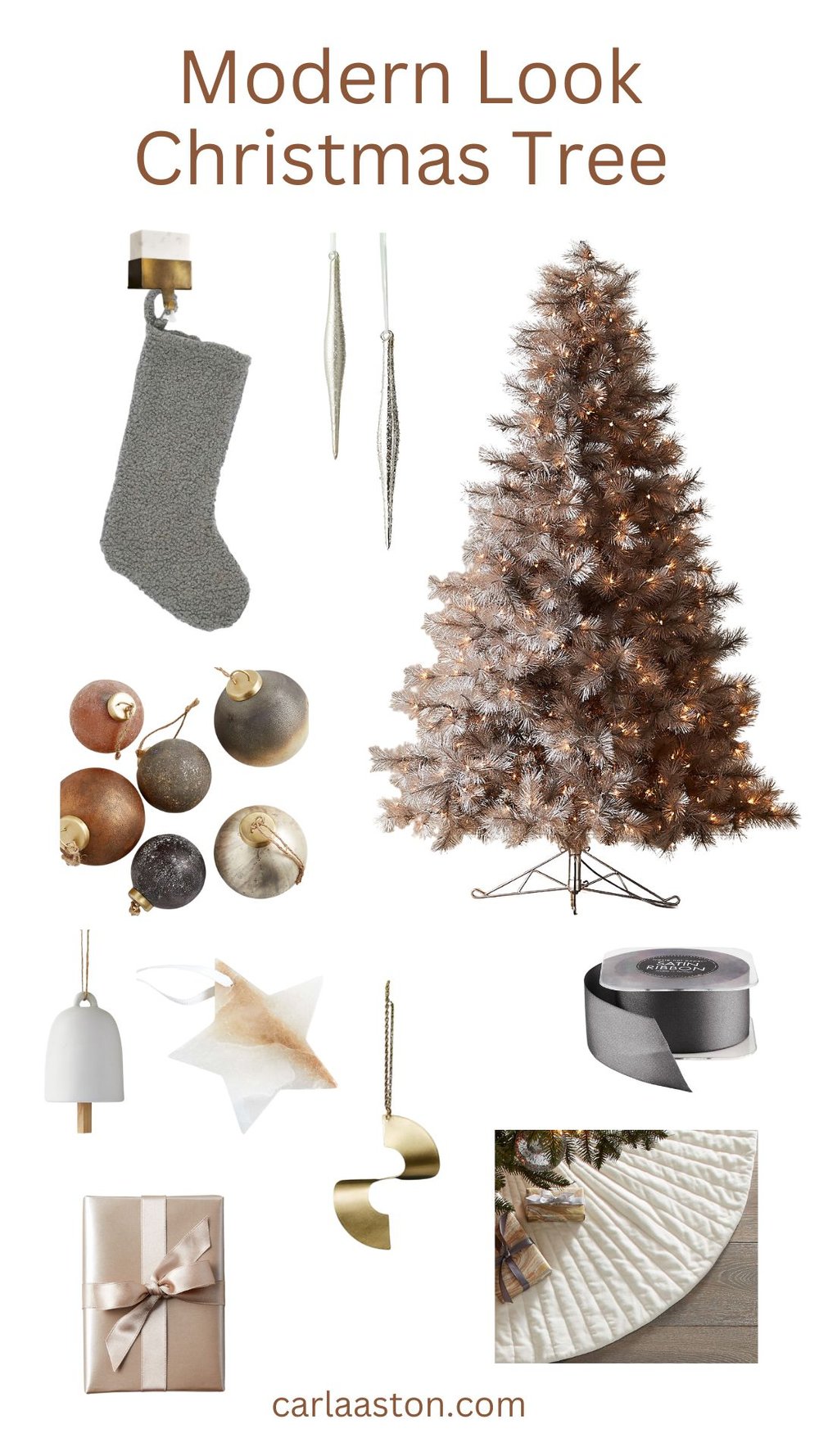 ---
Need some cozy home ideas to get ready for the cold winter holidays?
Get ready for the winter doldrums with this shopping guide for a cozy home. I have lots of great items to make your home, or the homes of the ones you love, more cozy and fun to stay indoors in this winter. The links have been updated for November/December 2022.