Combined Strength of Two Home Design and Construction Industry Trade Shows Delivers Strong Turnout in Orlando
[ad_1]

Combined Strength of Two Home Design and Construction Industry Trade Shows Delivers Strong Turnout in Orlando

The NAHB International Builder's Show (IBS) and the Kitchen & Bath Industry Show (KBIS) recently joined forces once again for the 9th annual Design & Construction Week (DCW), staging the first and one of the largest in-person shows to serve the home-building, design and construction industries since the start of the pandemic. Held Feb. 8-10 at the Orange County Convention Center in Orlando, the connected events drew more than 70,000 attendees and 1,200 exhibitors occupying approximately 725,000 square feet of indoor and outdoor exhibit space. 
Together, the blended IBS and KBIS showfloor experience fostered increased crossover traffic, as custom builders, remodelers and project builders discovered new products, trends and technologies; conducted face-to-face business with exhibitors; attended more than 110 leading-edge education sessions and panels led by industry experts; networked with peers and enjoyed awards presentations and special programming.
At IBS, the world's largest annual residential construction show, more than 800 exhibitors spanned 425,000 sq. ft. of expo space showcasing the latest in home-building products and technology. 
"The attendance at this year's show exceeded our expectations and reflects the enthusiasm of the home-building industry to collaborate and discover the latest products and technology solutions for their customers," said Geoff Cassidy, senior vice president of exhibitions and meetings for the National Association of Home Builders (NAHB), producer of IBS. "Our top priority remained the safety of attendees and exhibitors throughout the show, [and] we implemented a series of health measures that helped to ensure a safe and productive show." 
Owned by the National Kitchen and Bath Association (NKBA) and produced by Emerald, KBIS is North America's largest trade show for the kitchen and bath industry. The 2022 edition featured 350 exhibitors, including 85 first-timers, with the ratio of attendees to exhibitors up 9% over 2020—the last and one of the strongest in-person KBIS events pre-pandemic. Additionally, 48% of KBIS attendees were new to the show, according to KBIS officials.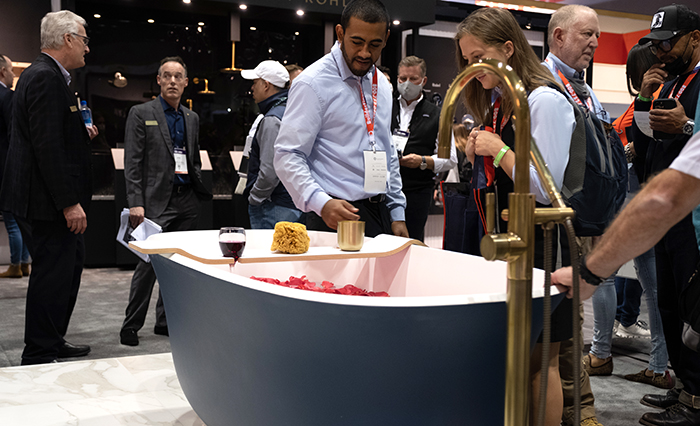 "There is no question DCW surpassed all of our expectations," said Jason McGraw, group vice president and KBIS show director. "We knew we had put everything in place to create a safe event. We knew the exhibitors committed to the show would bring their 'A' game. We expected a strong showing of attendees. But when we beat our attendance plan, we knew we had a winner."
He added, "The business done at this show will drive the industry for the balance of 2022 and beyond, and we are poised for a super 2023 event, with 83% of exhibit space already sold."  
Out on an energetic showfloor, exhibitors noted the strong foot traffic with enthusiasm.
"We're really pleased with the turnout," said Nicole LeBlanc, shopper marketing manager for Builder Channel at Whirlpool Corporation. "We're excited to have in-person meetings with our clients and be able to walk them around and show them our products. We did a lot of product research leading up to the show and are excited to showcase that here."
Rebuilding in-Person Participation
But after a two-year hiatus due to the COVID-19 pandemic, deploying a successful industry trade show with robust participation required show organizers to go above and beyond typical pre-show marketing efforts to lure audiences back to their in-person events. 
According to Denise Miller, vice president of event, product and brand marketing at NAHB, adopting a strategic, data-driven strategy played a key role in helping the organization drive attendance back to IBS. Leading up to the show, the association's marketing team relied heavily on event data from its longtime vendor Bear Analytics to enable the organization to better analyze its marketing engagement and fine-tune its approach leading up to the show. 
"We always look at the data, but this year we were obsessed with the data because on a daily basis, the minute that you could get that report, it was like, 'Did this actually work the day before?'" Miller explained. "So we spent more time than ever looking at 'Okay, we went after this group, they're biting after it, let's go after that group again.'"
Although the IBS team retained core elements of its previous marketing strategies, including its registration launch, new features highlights and pricing promotions, it was also able to capitalize on shifts in audience engagement, including a longer nationwide targeting effort up until the weekend prior to the show, in part because of less-expensive travel options to Florida, she added.
This ability to remain nimble in its marketing efforts, coupled with its ability to successfully communicate the show's value to exhibitors through a number of channels, enabled NAHB to host one of its most successful trade show events in recent years, Miller said.
Three Shows in One for 2023
Next year in Las Vegas, Design Construction Week will expand from two leading trade shows to three with the addition of the National Hardware Show (NHS), set to collocate alongside IBS and KBIS Jan. 31-Feb 2 at the Las Vegas Convention Center. 
According to IBS and KBIS officials, the addition of this legacy show for the hardware and home improvement industry will not only create a nice synergy with IBS and KBIS but will also allow attendees to explore additional products, services, trends and opportunities to grow their businesses and maintain a competitive edge in the marketplace.
"Our customers benefit from more value and opportunity during their time in Las Vegas by aligning with two other industry-leading events," said Beth Casson, NHS event vice president. "NHS, IBS and KBIS events have complementary product offerings that will broaden buying and selling opportunities. Hosting the show earlier in the year gives buyers an opportunity to kick off the year with discovery and connection, while allowing more time for critical decisions before big buying events."
She added, "We've heard that this timing and an NHS collaboration with these events would be a great benefit to our customers, so we are thrilled to make this happen for our NHS community."
Don't miss any event-related news: Sign up for our weekly e-newsletter HERE and engage with us on Twitter, Facebook, LinkedIn and Instagram!


[ad_2]

Source link