Turn your backyard into a bonafide oasis with the best garden furniture of 2021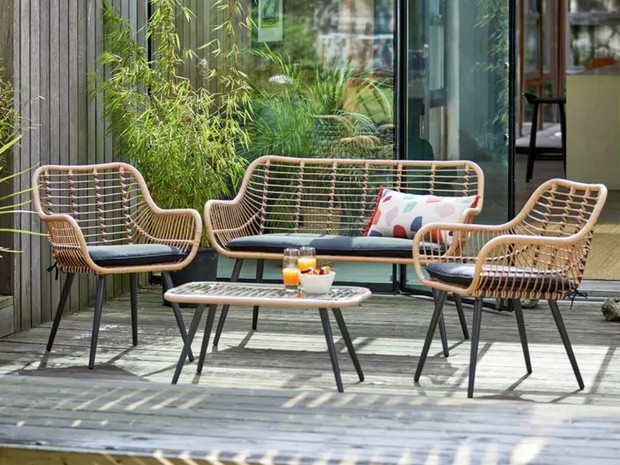 We may only have a few months of stunning English summertime weather, but you better believe we're going to be making the most of every second of it. That means plenty of picnics, alfresco happy hours and BBQ meals will be had this season.
The key to all of these summertime gatherings (aside from good company) is the right seating. And instead of just laying out a picnic blanket, why not invest in garden furniture that can help make the most out of your outdoor space on those sunny days.
Enter our favourite garden furniture, which ranges from complete sets to hanging Garden Chair. Not only are all of these pieces very of the moment, but each have also scored top marks from past customers in terms of its:
 Size and layout
 Climate and weather conditions
 Function and form
 Personal design aesthetics
 Price
Better yet, all work for a range of outdoor spaces. So, whether you're furnishing a small, well-designed patio or a large garden, there's an option that suits.
Choosing the right garden furniture for your space
Before we dive into our top picks, it is important we call out some of the important features worth considering before investing in new garden furniture.
Of course, you want something that you love in terms of looks at a price you can easily afford. You'd also want the furniture to be durable; after all, it's not something you'd replace every year.
However, the first thing you need to do is to measure how much space you have. You don't want to buy furniture that makes your space look congested or too empty; you need something that complements it.
Once you've measured your space, the next thing is to select the type of furniture you want. In case you don't know, garden furniture is made from a number of different materials, with the most common ones being rattan, wood, metal, and plastic. Each material has its own set of pros and cons and is suitable for certain weather conditions.
Of course, while doing all this, you also need to keep your budget in mind. We don't recommend going all out and splurging on garden furniture; instead, use your money wisely to make the most of it.
For your convenience, we've picked out the best garden furniture featuring different styles and materials so you can easily find your perfect fit.
Now without further ado…
Best garden furniture set
If you're looking for a complete garden furniture set, then this Argos Home4 Seater Bamboo Sofa Set is the ideal choice for you. With two armchairs and one sofa, there's plenty of space for a group of four. A glass-top garden table is also included so you can enjoy your evening snacks under the clear blue sky.
Our first impression of the set was how sturdy and well-made all the components looked. What we particularly liked about this set is its trendy bamboo toned frame and handwoven rattan-effect design, that compliments most gardenscapes. Plus, this style is trending this season and has become synonymous with high-end , mid-century modern aesthetics. As one current owner notes, "Another great purchase from Argos. This garden set was easy to put together, (just the legs to screw in) well made and looks more expensive than it cost."
The cushions are also detachable, making them easy to store away in off-season months.
Overall, we think this stylish and well-made outdoor furniture set is a great pick for a small garden.