Winter holiday inspiration: small changes for a big impact
The holiday season is often a time of maximalism and extravagance. That includes interior design as holiday decor is put up. If over-tinselled Christmas trees and blow-up Father Christmases aren't your thing, you can still embrace the holiday spirit with simple and minimalistic decor. Create the classic cosy feel without going overboard on the reds and greens.
Celebrate a happy holiday season with these subtle yet effective room decorating ideas, while sticking to a budget.
Explore inspirational home lighting ideas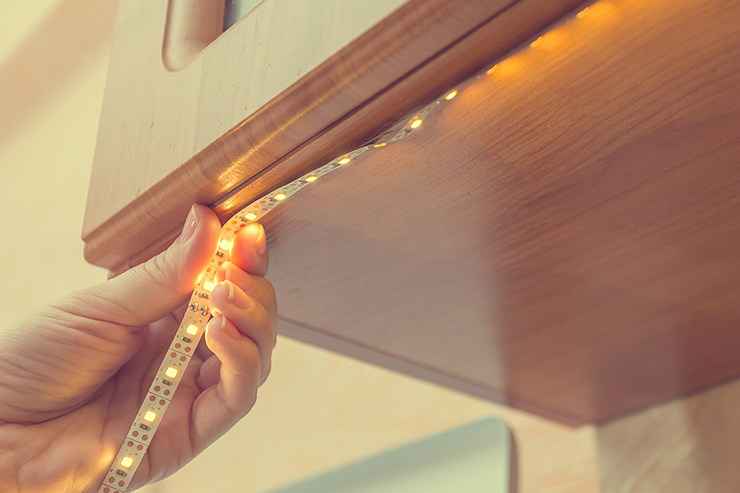 With the holiday season taking place in the darker months, warm and inviting lighting can make a real impact. LED strips are a favourite among bedroom lighting ideas because they can easily be set up around a bed frame to create a comforting atmosphere during winter nights.
If you're after living room lighting ideas that are a bit different, look for floor and table lamps. The designs range from sleek and modern to vintage and rustic so you can find one that suits your style. Or keep it super simple and make paper lanterns with the family.
Fill your rooms with colour and texture
Colour sets the tone of a room and texture adds depth. So you can create a festive effect by adding soft furnishings. For example, lounge decorating ideas include an oversized, quilted blanket that matches or contrasts with your sofa or pillows. Warm snuggly fabrics look good and feel even better when curling up on the sofa!
Holiday bathroom design ideas are harder to come by. You can still focus on fabrics and change the towels on the towel rack to evergreen tree green. The same works for kitchen decorating ideas. How about switching up the oven mitts and tea towels to a Christmas design?
Choose quality wooden furniture
Wooden furniture has a warmth and cosiness to it so as well as being very practical (having enough tables and chairs for visitors). It can also add to the festive feel of your home. Pick your material such as oak, beech or ash and then use it consistently across your wooden furniture including side tables, storage and even a rocking chair. A wooden furniture bedroom set would look great especially if you can find a vintage set as vintage furniture can add up to £5,643 to the value of your home.
You can bring a bit of quirkiness into this design choice if you'd like. Look out for second-hand pieces with unusual designs that you could restore. Add a festive table cover and seat cushions. From traditional to unusual, switching up your furniture adds to your holiday room design.
If you've got an idea for a piece of wooden furniture you'd like, contact a carpenter through Rated People and they can bring it to life for you.
FIND A LOCAL CARPENTER
The secrets for a happy holiday
As well as being a fun time to celebrate with friends and family, the holidays can be a bit stressful too. Make sure you take time to rest. It'll definitely help avoid arguments with visiting family! And reach out for help when you need it. If you're struggling to get all your decorating done in time or come across a maintenance issue, our tradespeople will be working during the holiday season so you can book support through Rated People.
FIND A LOCAL TRADESPERSON