WRJ Design Named Top Wyoming Designers by "Business of Home" 50 States Project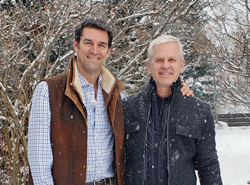 I saw that we could offer an international perspective that the luxury residential [category] in the Jackson area was missing.

JACKSON HOLE, Wyo. (PRWEB)
January 29, 2021
Business of Home, the respected must-read media for interior designers across the U.S., completed its yearlong "50 States Project" in Wyoming, selecting Rush Jenkins and Klaus Baer, co-founders of WRJ Design, to represent the state. In her interview with the duo, BOH Editor in Chief Kaitlin Petersen discusses Jenkins and Baer's "very different" but entirely complementary skill sets, as well as the growth of WRJ, which moved west from New York, opening its Jackson, Wyoming, showroom as a two-man operation in 2010. Ten years later, fresh off a successful book launch, national media accolades and a third Mountain Living "Home of the Year" win, WRJ Design enters the new year with a team that now numbers 24 and is set to break ground on a new 12,000-square-foot Jackson Hole headquarters.
WRJ Design Creative Director and CEO Rush Jenkins grew up on a remote Idaho farm so "the likelihood of me connecting to design was pretty remote!" he tells BOH. But photos from his grandparents' European travels ignited a spark. Fast-forward through a landscape architecture degree from Cal Poly, work for a European antiques store and an eventual graduate degree from Sotheby's Institute of Art in London that led to a position as director of design for Sotheby's New York – fodder for the firm's thriving exhibition design sideline. Over the years, the team has created exhibitions for the collections of such luminaries as the Kennedys, Katharine Hepburn and Nancy Reagan, culminating most recently with the lauded exhibit of designer Mario Buatta's estate in January 2020.
While living in New York, Jenkins started WRJ Design and serendipitously met Klaus Baer, the two becoming perfect partners in life and eventually in business. Baer was in the investment banking industry when they met, working as a global presentation center manager for Bear Stearns and earned a graduate degree from Parsons School of Design while still working full-time in order to join Jenkins in WRJ Design in 2008.
Sharing a passion for the mountains and Jackson Hole's inspiring views, Jenkins and Baer packed up and headed west to fulfill their combined vision of creating a new life in the Tetons and bringing WRJ Design's approach to interior design to the area. As Jenkins tells BOH, "I saw that we could offer an international perspective that the luxury residential [category] in the Jackson area was missing—something that was broader, and that had a deeper understanding of design, fine art and collecting."
While Jenkins' creative drive fuels the firm's stellar design reputation, it's Baer's deep passion for systems that has allowed the business to successfully scale. Overseeing the business operations of WRJ as Chief Operating Officer, his focus fosters creativity and growth for the firm. He instituted a team-based organizational chart that offers employees more efficient training and clear pathways toward promotion, and he created an intensive hands-on assessment for new hires that provides a real-world evaluation of skills that leads to the type of long-term relationships the firm desires. "You need that person trying to get all those pieces working together harmoniously so the company can roll down the road like a well-oiled machine," Baer says of his role.
Currently, the majority of WRJ Design's work is new builds of houses or extensive full-house renovations, working on some 30-50 homes at a time. Also underway, plans for the new headquarters at the base of the mountains. "We want it to be a living, breathing building: Upstairs are the design offices, but downstairs we'll use the first floor as a dynamic gathering place or a center of culture in a way," explains Baer. As part of the headquarters, WRJ is also working on creating a 5,000-square-foot residence, which they will rent out to families and guests for a luxury level of living, and the new headquarters lets WRJ return its 2,000-square-foot in-town building to its original role as a lifestyle showroom.
About WRJ Design:

Headquartered in Jackson, Wyoming, WRJ Design imparts the special serenity of its local Teton landscape to interior designs in Jackson Hole and across the country. Co-founders Rush Jenkins and Klaus Baer released WRJ's first book, "Natural Elegance: Luxurious Mountain Living," in 2019. Published by Vendome and featuring hundreds of photographs by William Abranowicz of a dozen timeless and sophisticated WRJ-designed homes, the book has proved so popular that it is now in its third printing. For more information visit wrjdesign.com and follow WRJ Design on Instagram.
Share article on social media or email: